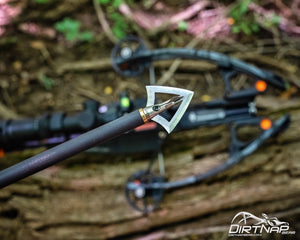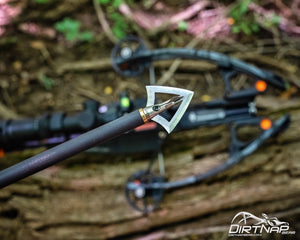 On Sale
CROSSBOW ALPHA 100/125 GRAIN - 3 PACK
Sold as 3 pack.
The ALPHA Crossbow flies great out of today's fastest crossbows.  Its all steel construction and small profile offer fantastic downrange accuracy with excellent durability.  
ALPHA is the latest broadhead from DirtNap Gear. It's all steel design in a compact package makes the NEW ALPHA one tough head. Sporting a 1 1/4" main blade with 5/8" bleeder this head combines strength, penetration,and cutting diameter to pair well and achieve field point accuracy out of today's fastest bows and crossbows.  
ALPHA features our patented Modular Weight System (25 grains) so they can be shot as 100 or 125 grains.
Blade - 420J2 Stainless Steel
1 1/4" main blade, 5/8" bleeder blade
.051 blade thickness
Ferrule - Stainless Steel